Dual Thermo Sensor / Pengukur Suhu
with Clock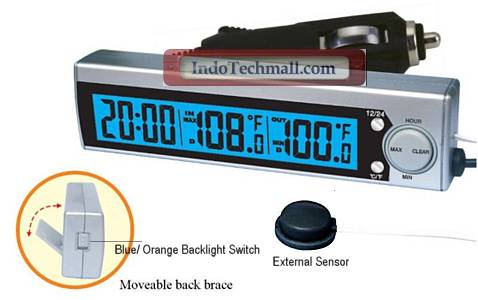 Features:
1) LCD clock
2) Indoor and outdoor thermometer Readout
3) Max. and min. temperature record
4) Celsius and Fahrenheit display shiftable
5) With car electrical source plug
6) Blue or orange backlight LCD (12V DC, lighter)
7) Outdoor Flat Sensor
8) Battery: AG13 x 2
9) Dimensions: 135 x 20 x 35mm
Display is powered by inside button cell battery AG13, backlight is powered car cigarette lighter
Dapat dipakai untuk aplikasi deteksi suhu yang lain, misalnya untuk mengukur suhu CPU, VGA card dan suhu ruangan.
Juga bisa untuk mengukur suhu panas/dingin pada Thermal Electric / Peltier. Aplikasi dapat disesuaikan dengan kebutuhan.
Rp 300.000,-