Ferrite Clamp Filters
(Ferrite Core with Case)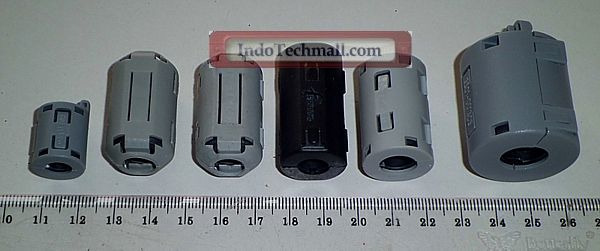 Dari kiri ke kanan:

1. Samsung Ferrite clamp diameter max 7 mm

2. Unknown Ferrite Clamp 6-9 mm (Mirip TDK)

3. TDK Ferrite clamp diameter 6-9 mm (ZCAT2035-0930A)

4. Ferrico Ferrite Clamp 6-9 mm

5. TDK Ferrite clamp diameter max 11 mm (

ZCAT2132-1130)

6. Samsung Ferrite clamp diameter max 13 mm

1. Rp 50.000,- (4 pcs)

2. Rp 80.000,- (4 pcs)

3. Kosong (4 pcs)

4. Rp 80.000,- (4 pcs)

5. Rp 100.000,- (4 pcs)

6.

Rp 150.000,- (4 pcs)




-------------------------------------------------------------------------------------------------------------------------------------------------------------------


2. TDK Ferrite clamp diameter 6-9 mm (ZCAT2035-0930A)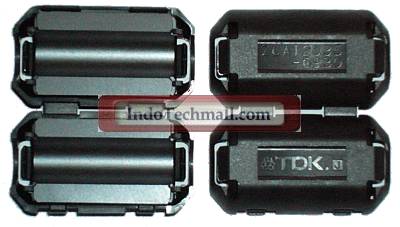 Part Number : ZCAT2035-0930A
Product Name : Clamp Filters
TDK Series Name : ZCAT Series
Japan

Application :
Personal computers, word processors, monitors, hard disk drives, digital telephones, audio devices, electronic musical instruments, video games, copiers and facsimiles.

Function :
A type means Cable fixed type (hold the cable to secure it with the main body). Ferrite core provides excellent absorption of high-frequency EMC. Highly effective as countermeasure against common mode EMC without adverse effect on signal quality. Large core size prevents saturation during large signal surges.

Description :
Unique plastic case ensures simple, convenient installation and includes a self-holding mechanism to prevent slippage on cables.
| | |
| --- | --- |
| Lead (Pb) Free | Yes |
| Body Length (L) | Nom 35 mm |
| Outside Diameter Nom | Nom 19.5 mm |
| Inside Diameter Nom | Nom 9 mm |
| Cable Diameter | 6 to 9 mm |
| Cable Type | Round/Oval Cable |
| Impedance | Min 80 Ohm |
| Frequency of Impedance | Nom 50 MHz |
| Category Temperature Range | Min -40 Cel Max 85 Cel |
| Storage Temperature Range | Min -40 Cel Max 85 Cel |
| Weight | Nom 22 g |