Spy MP3 & Recorder (512MB)
MP3 Player, Spy Voice Recorder, USB Storage, Watch
MP3 dg suara lebih bagus drpd I-pod
Harga Rp 1.600.000,-
Include: Earphone, AC charger, cable, software
THE MP3 SPY WATCH IN THE WORLD
This product features excellent design and represents the latest technology for this application.
*512MB flash memory with integrated USB device. Portable anywhere.
*MP3 Player with earphones. Shockproof without sound jumping. Top quality hi-fi 3D stereo MP3 music.
*Spy recorder function.
Common MP3 watch has a build-in mic which record through the earphone jack at the left side. This spy mp3 watch has a high sensitive spy mic located at top of the watch face (Please find the very small hole in the picture).
With this spy mic, it is much more easily to aim at voice target and make recording concealed( no need to discover the earphone jack cover) . The separate spy mic design can effectively avoid watch internal movement noise in recording and avoid being covered by cuff. You can easily get high quality professional recording at the meeting, conversation, report.....all the places or occasion.
*Dual charging methods: USB cable, AC adapter/transformer
*Cool aviator design, display week, date, hour and second clearly
*Separate watch function
*High rigidity sapphire crystal glass surface can effectively prevent any abrasion in use. Always keep your watch new!
*Top workmanship and fist class material: Japan core, high rigidity crystal glass watch surface, Korean high quality flash memory and build-in hi li-ion rechargeable battery.
Product Description
* 5 in 1 functions: MP3 Play / Spy Recorder / Repeat / USB Storage / Quartz Watch
* Stainless steel watchcase & wrislet
* Capacity: 512MB
* Support MP3 format
* Portable and user friendly
* 3-10ATM water-resistant
* Shockproof without sound jumping
* Red/Green light indicator
* System support Win98 and above
* Interface: Round 4 pins USB
* Build-in 150mAH 3.7V Hi Li-ion rechargeable battery with dual charging methods: USB cable & AC adapter/transformer
* Time charge: Up to 2.5-3hours, and up to 5-6 for first time
* Playing time: Up to 10 hours for continuous playing
* Port: USB1.1 (Max 5Mbps)
* Support Bit rate: 32kbps-256kbps
* Temperature: -20C.~+70C.
* Out put: 5mW+5mW
* Frequency rate: 20Hz~20KHz
* Weight: 50-80g
* Certification: CE & FCC
---
MP3 Watch 256 MB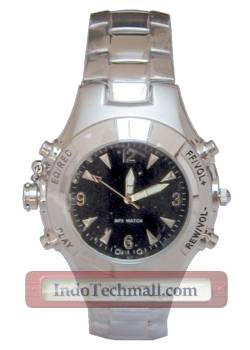 Rp 700.000,-