Pocket Emergency Charger
Emergency charger ini berfungsi mengisi batere HP dengan menggunakan 1 x batere AA. Sangat praktis untuk dibawa2 meski jauh dari listrik PLN. Konektor sesuai dengan HP Nokia, untuk HP lain butuh konverter lagi. Bentuknya cukup menarik dan terbuat dari metal.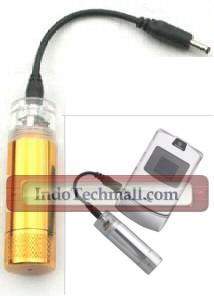 Rp 60.000,-
Package

1 x Mobile phone battery charger.
1 x Nokia Phone connectors.

Features

Ideal for Nokia and other compatible mobile phones/ mp3/mp4
Typical efficiency 88-93%.
For use with mobile electronics powered by Lithium battery.
Charging current : 300mA Maximum (Varies with usage conditions).
Charge up to 120mAh to device rechargeable battery per AA battery.
Enables immediate usage of device, even if mobile battery is fully depleted, use while charging.
Automatic start-up when current drawn at output (Upon connection to device).
Automatic shutdown when no current drawn at output (5 seconds delay).
Automatic shutdown when AA battery is depleted or when mobile battery is fully charged.
Charge time 100~180 minutes, up to 2 hours talk time and 90 hours standby (depending on phone models and network)
It can be used on most popular mobile phones like Nokia and other compatible mobile phones.
Ideal and essential for traveling, hiking, camping, exploration etc., where normal charger is not available.
Charge up your mobile whenever you need, indoor/outdoor, spare/emergency.
Easy to use, just choose the cable, plug and play.
Driven by 1 standard AA battery or rechargeable AA battery.
Never miss out the important call again, never run out of battery in any situation again.
Elegant design, tiny and lightweight, easy to carry in pocket, a necessity in your bag/briefcase and car.