Electronic Safety Box
Sebuah brankas modern yang dibuka tutup dengan menggunakan kunci kombinasi elektronik. Terbuat dari besi yang cukup tebal dan dicat dengan powder coating. Sangat berguna untuk menyimpan benda-benda berharga di dalam brankas ini. Dilengkapi dengan kunci khusus manual yang berguna jika Anda lupa nomor kunci kombinasi elektronik. Juga dilengkapi dengan lubang di belakang & bawah untuk dipantek di tembok.
With electronic lock which is simple to operate and can be programmed with any combination of 3 to 8 personal numbers.
Security and power status shown by a series of LED displays and buzzer feedback for each operation.
Features:
- Using 4 x AA Size (1.5V) batteries.
- Low battery warning.
- With manual override key system, 2 key supplied.
- Pre-drilled hole with fixing bolts.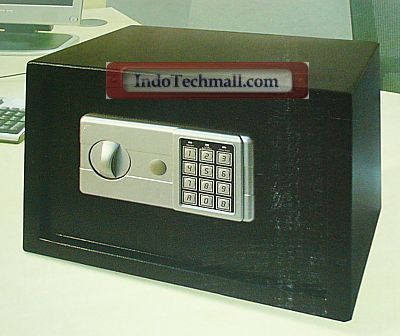 Specification:
Weight 6.5 kgs
External Dimension: Height 250 mm; Width 350 mm; Depth 250 mm
Internal Dimension: Height 248 mm; Width 348 mm; Depth 190 mm
Rp 700.000,-
Berat 7 kg